Product Description
MAINTEX BL6208-01 Brushless Motor for Air Purifiers is a type of brushless DC motor.
The brushless DC motor consists of a motor body and a driver, and is a typical mechatronic product. The driver is composed of power electronics and integrated circuits, and its functions are: receiving start, stop, and brake signals of the motor to control start, stop, and brake of the motor; accepting position sensor signals and forward and reverse signals for controlling the inverse The power bridges of the variable bridges are turned on and off to generate continuous torque; the speed command and the speed feedback signal are accepted to control and adjust the speed; provide protection and display, etc.
MAINTEX BL6208-01 Brushless Motor for Air Purifiers Parameters
MODEL
ITEMS
SPEC
BL6208-01 for Air Purifiers
Driving Voltage
24VDC
Voltage Range
22.8~25.2VDC
Peak current
2A
No-load Speed
2600±10%rpm
Rated Speed
2600±10%rpm
Speed Range
500~2600rpm
Rated Torque
0.081N·m
Phase number
3 phases
Number of Poles
10 poles
Direction of Rotation
CCW
Weight
0.286kg
Diameter
61.4mm
Length
63.6mm
Drawing of MAINTEX BL6208-01 Brushless Motor for Air Purifiers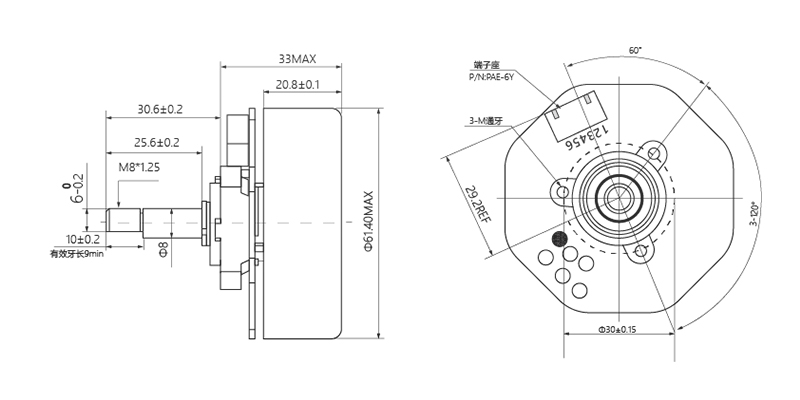 Applications of MAINTEX BL6208-01 Brushless Motor for Air Purifiers
• Drone
• Treadmill
• Fascia guns
• Electric massagers
• Air conditioners
• Robot vacuum cleaner
• Power reclining sofas
• Juicer
• Dishwashers
• Washing machines
• Fan
• Small home appliances
• Chain Saws
• Trimmers
• Leaf Blowers
• Hedgetrimmer
• Lawn mowers
• Secateurs
• Olive shaker
• Pole pruner
• Concrete cutter
• Metal cuter
• Circular saw
• Angle Grinder
• Components
• Snow Thrower
• Mulcher
• Grass Cutter
• Lown Mower
• Electric Chain Saw
• Robots
OEM Service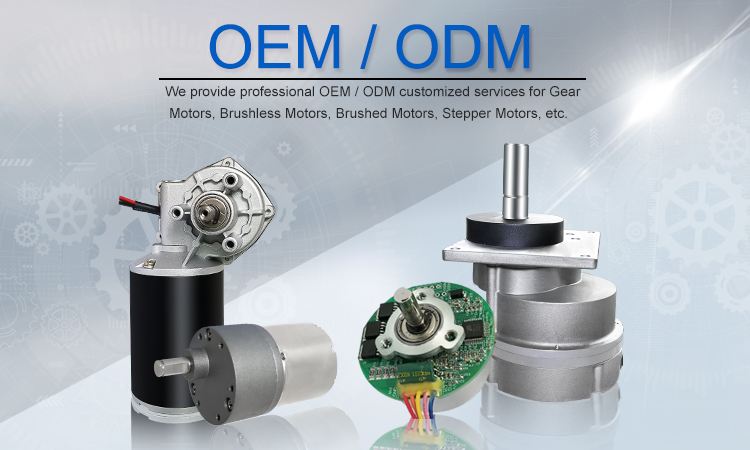 【Industry Encyclopedia】
The history of the development of brushless DC motors

For the general public, it is a relatively new type of motor, which has only been gradually applied to daily life in recent years. In fact, as early as 1917, the basic idea of brushless DC motors was born, because the characteristics of mechanical brushes that are easily worn out is a fatal disadvantage of brushed DC motors, which affects the overall application of brushed motors in the field , People need a motor that can be used for a long time without maintenance to replace it. At that time, Boiiger proposed the idea of replacing the mechanical brushes of brushed DC motors with rectifiers, but it was not until 1955 that the United States D. Harrison and others applied for the first patent for replacing the mechanical brushes of a brushed DC motor with a transistor commutation circuit, which officially marked the birth of modern brushless DC motors.
With the introduction of the Mac classic brushless DC motor and its driver in 1978, as well as the development of square wave brushless DC motors and sine wave brushless DC motors in the 1980s, brushless DC motors really began to enter the practical stage and have been rapidly developed . At present, brushless DC motors have been fully developed internationally. In some more developed countries, they will become the dominant motors in the next few years and will gradually replace other types of motors. In China, the comprehensive level of brushless motors is still lower than the international level. One reason is that China's research and development work began in the early 1970s, at least half a century later than the international development, and the research level is not as good as other developed countries; the other main reason is Research work in our country is mainly concentrated in some scientific research institutions and institutions of higher learning, and the degree of integration with practice is still relatively low, especially the manufacturing technology and processing equipment are far behind the international standards, which is now about the same as the international standards in the late 1970s and 1980s. The level of the early years.

The most critical era for the application and development of brushless DC motors is the past 10 years. Compared with brushed DC motors, the high cost of brushless DC motors is mainly caused by the increase of electronic components. In the early 1980s, the price ratio of the motor body and the commutation drive circuit was about 1:10, and the high cost restricted the development of brushless DC motor applications. In the past ten years, with the rapid development of power electronic technology and integrated control technology, electronic components with excellent performance and low performance have created excellent conditions for the development of brushless DC motors; the price ratio of the motor body and the commutation drive circuit has been It is reduced to 1:1~3, which creates a prerequisite for the mass promotion of the application of DC brushless motors.

stepper motor BLDC motor step motor 步进电机 龙岗网站建设 深圳seo 自贡灯会 净水器厂家 自贡净水器 泉州净水器 珠海净水器 天津净水器 重庆净水器 沈阳净水器 杭州净水器 汕头净水器 苏州净水器 温州净水器 宁波净水器 昆山净水器
Shenzhen Maintex Intelligent Control Co., Ltd.
Shenzhen Maintex Intelligent Control Co., Ltd. owns existing factory more than 26 thousand square meters, net assets over billions of dollars, nearly a thousand employees, and over 30 production lines with the annual output of more than 35 million units.The product of Maintex covering over twenty countries and regions around the world, and has been widely praised by customers.
MAINTEX's main products are precision permanent magnet stepper motor, permanent magnet DC motor, brushless motor, precision gear motor, rotary transformer and other micro motor products, as well as the treadmill motor control system, train model, electric pump and electromechanical integration products. These products are widely used in security systems, financial systems, industrial control systems, vehicle systems, retail services and office automation and other fields. At the same time, the company also provide personalized application solutions of micro electromechanical products.
MAINTEX strives to realise products diversification and differentiation, and to build the leading enterprise in the motor industry.The brand MAINTEX has become a high recognition brand in presicion and intelligent control industry with a short period of time.
Company Name: Shenzhen Maintex Intelligent Control Co., Ltd.
Representative: Weiting Wang
Product/Service: Stepper Motor , Brushless motor , Dc motor , treadmill used motor , Brushed Dc Motor , Fuji motor
Capital (Million US $): RMB:40 Million Yuan
Year Established: 2012
Total Annual Sales Volume (Million US $): US$10 Million - US$50 Million
Export Percentage: 51% - 60%
Total Annual Purchase Volume (Million US $): US$10 Million - US$50 Million
No. of Production Lines: Above 30
No. of R&D Staff: 41 -50 People
No. of QC Staff: 41 -50 People
OEM Services Provided: yes
Factory Size (Sq.meters): 10,000-30,000 square meters
Factory Location: Zhengde Science Park, No. 8, Pingdi Street, Longgang District
Contact Person: Mr. MAINTEX
Tel: 0086-0755-36518326-854